Metro Bank's Crawley store has organised hundreds of craft donations for the Ronald McDonald Houses that support Evelina Children's Hospital in London. Evelina London is part of Guy's and St Thomas' NHS Foundation Trust and is the second largest provider of children's services in London.
Metro Bank has donated 1,139 colour in stockings, 505 bug head bands 48 foam book mark activity pack and 72 packs of crayons.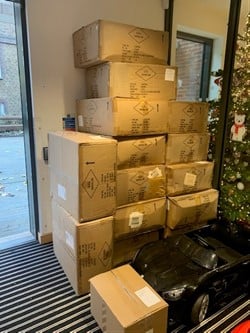 Ronald McDonald Houses are located as close as possible to a specialist children's hospitals across the UK. This means that families can be by their child's bedside in a matter of moments, whilst maintaining a degree of normal life and reducing emotional and financial strain.
"As a community bank we are thrilled to be able to help parents and kids at a time in their lives where they can be really stressed and worried," explains Nicky Ascenso, Crawley Metro Bank's store manager. "Ronald McDonald Houses plan to use the donations in their weekly craft sessions and for their Christmas parties."
The Crawley Metro Bank store is located at 25 Queens Square, Crawley RH10 1HA. The store is open Monday – Saturday: 8.30am - 6pm. Sunday: 11am - 5pm.