The revolutionary bank launches pilot to offer service and convenience to the South East
Bank launches range of transparent, straightforward residential mortgage products, up to 80% LTV and designed with the customer in mind
Metro Bank launches with John Charcol and is expected to take on further intermediary partners in coming months
Metro Bank celebrates its second birthday on July 29th as one of the strongest capitalised banks in the world
Metro Bank, the revolutionary High Street Bank, today announces a move into intermediary mortgages. This pilot programme will provide residential mortgages for properties in London and the South East.
The pilot, with leading broker John Charcol, will work to a quota to ensure that Metro Bank's high standards of service are consistent for all customers introduced through brokers. Metro Bank is in active discussions with a small number of other brokers with plans to extend availability over the next few months.
In line with the pilot, today also sees Metro Bank launch a range of new competitive intermediary products with a range of LTVs to a maximum of 80%, designed for higher value properties. Metro Bank's range of mortgage products is priced to reflect their commitment to long term fair and transparent pricing, demonstrated through a simple fee structure. Metro Bank will be paying a procuration fee to their intermediary partners in order to cover the costs of distribution.
The service has been designed around Metro Bank's commitment to amazing service and convenience. Metro Bank will manually underwrite every application, taking into account individual personal circumstances and making allowances for factors such as irregular income.
Paul Marriott-Clarke, Metro Bank's Commercial Director commented: "Metro Bank is committed to building a long term and highly successful intermediary business that provides both our partners and our customers with amazing customer service. With John Charcol's reputation as a leading intermediary in the high value space, they were the obvious choice to launch with.
By partnering with a small number of intermediary partners, we ensure that we are able to give a consistently high level of service to all. Metro Bank offers common sense banking with the personal touch and our individual underwriting service means that we will consider cases which would typically fail the automated credit scorecards used by many lenders.
"We're really pleased to partner with John Charcol on our initial programme. Like Metro Bank, John Charcol shares Metro Bank's commitment to long term customer relationships and outstanding customer service and convenience. We have a very exciting partnership ahead of us."
Walter Avrili, Managing Director of John Charcol, commented: "We are delighted that Metro Bank has chosen John Charcol to launch its intermediary proposition. The addition of such a lender who is focused on unparalleled service and transparent products can only be a good thing for our clients and indeed all UK mortgage borrowers. John Charcol is a business that prides itself on service so the relationship is a perfect fit."
Metro Bank Mortgage Range:
For mortgages less than £1million: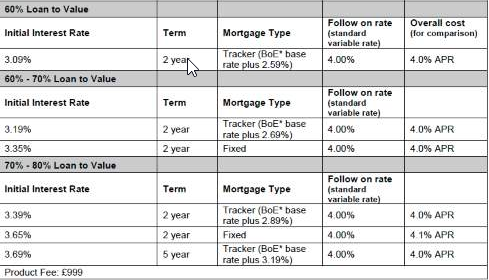 For mortgages more than £1million:


*BoE= Bank of England
Metro Bank will pay their intermediary partners a procuration fee of 35bps, regardless of the size of the loan.
Notes to Editors
By combining great service with consistent fair rates we are attracting loyal retail current account customers