The UK's community bank, Metro Bank, recently joined hundreds of local businesses in the Redbridge area to participate in the East London Business Expo hosted by Ilford Business Improvement District and Ilford Business Hub at City Gates Conference Centre.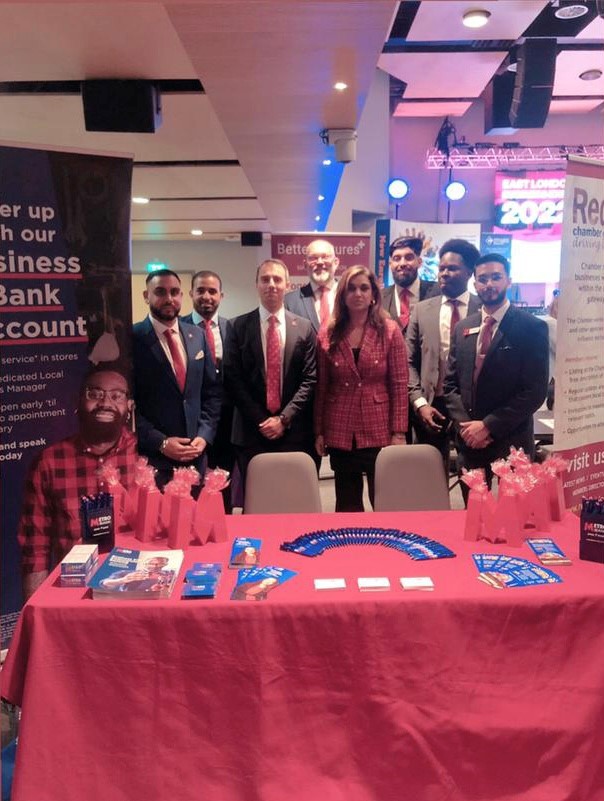 The East London Business Expo is an annual event that presents a great opportunity for businesses to come together within the local community to forge stronger networks, and benefit from masterclass workshops and presentations.
We are pleased to have supported the event, with Metro Bank's Regional Director, Mark Davies, and Area Director (East London & Essex), Isaac Minto, hosting a number of segments during the day, accompanied by Local Business Managers, Jayce Barry, Gurdeep Singh, Sadiq Ahmed and Customer Service Representatives, Tarun Sehmi, Pin Balagan and Harvey Singh Toot, with a focus on how we work and support our commercial, business, and retail customers within the local communities we operate.
"As a community bank, we were delighted to be back for another year supporting the East London Business Expo" explains Mark Davies, Metro Bank's Regional Director. "It was great to see our existing customers and meet new faces at this inspiring event aimed at promoting local businesses. This event has offered the opportunity to forge new connections with those that will help us on our next chapter of growth."
Isaac Minto, Area Director (East London & Essex) added, "We had frank discussions with businesses about the challenges they're currently facing during this difficult economic climate. Some of the key topics discussed included the ongoing cost of living crisis - particularly how businesses are coping with soaring costs, finding ways to manage working capital and where we can step in and support them with their banking needs, for example, offering them our new overdraft proposition which only takes minutes for an application decision." Isaac added, "Now more than ever, it is essential to have a close relationship with your banking partner, and this is something that we are very keen to support with – our doors are open!"
For information on how we can assist with cost of living crisis, please click here.
Metro Bank's Ilford store is located at 114 High Road, Ilford IG1 1BY. The store is open Monday – Saturday: 8.30am - 6pm and Sunday: 11am - 5pm.