Aylesbury residents will be showered with love this Valentine's Day as the Metro Bank store in Market Square transforms itself into the Love Bank this Tuesday complete with love themed decorations, complimentary confectionary and kids colouring sheets on offer in store.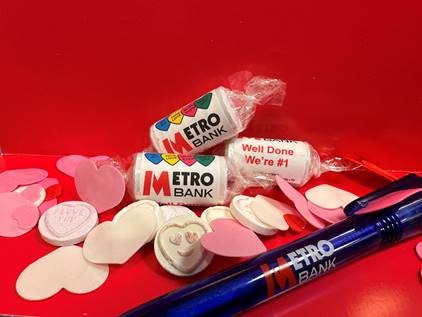 "We want to show our love for all our local residents and businesses this Valentine's Day." explains Aylesbury Metro Bank Local Business Manager, James Cross. "Valentine's Day is the one of the few days in the year where we can all focus on something positive and heart-warming, Given the gloomy news from both home and abroad at the moment, we want to take this moment to celebrate and share the love. As it is half term, any families who want to pop in and entertain their kids with our free colouring craft and complimentary candy will be most welcome."
The Metro Bank's Aylesbury store at 45 Market Square, Aylesbury, HP20 2SP. The store is currently open Monday – Saturday 8:30am - 6pm. Sunday: 11am - 5pm.