Metro Bank colleagues from the Bradford store have delivered seven Money Zone – financial education workshops – to over 270 children in years four, five and six from Horton Grange Primary School. The aim of the complimentary workshops is to raise financial awareness in students from a young age.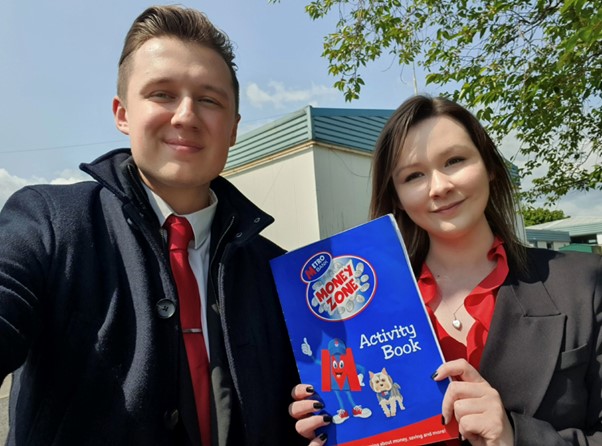 Money Zone is a series of financial education lessons that Metro Bank offers to school children - either virtually or in store. Money Zone comprises of four sessions - budgeting, saving, banking and the last session which takes place in store gives the children a behind the scenes look at the Bank including a visit to the vault and the chance to try the coin counting Magic Money Machine. At the end of the day, all the students receive their own goody bag and meet the Metro Bank mascot, Metro Man. Metro Bank has delivered its Money Zone programme at over 2,500 schools and 250,000 children.
Bradford Metro Bank Assistant Store Manager, Michelle Aherne organised and delivered the key sessions to students alongside Customer Service Representatives Joshua Day, Rimi Akter and Kalsuma Shazmin.
"We are really pleased that we were able to deliver this Money Zone workshop, the pupils were very engaged, and it was a fantastic opportunity to continue to build our relationship with the local community," explains Bradford Metro Bank's Assistant Store Manager Michelle Aherne. "The children loved when we visited and were super excited to learn more about how they can save up for the things they want in the future, a lot of them wanted to save for their dream Lamborghini!''
Any schools or groups interested in Money Zone can contact their local Metro Bank store for more information.
Metro Bank's Bradford store is located at 5 Market Street, Bradford, West Yorkshire, BD1 1EG. The store is open Monday – Saturday 8:30am - 6pm. Sunday: 11am - 5pm. Bradford Metro Bank is part of the Safe Space scheme – the store is available to anyone experiencing, or at risk of domestic abuse, providing the opportunity to safely call a helpline, support service or loved one.