The Chelmsford Community Policing Team recently met with colleagues and customers at the Metro Bank High Street store in an effort to fight against personal fraud and theft.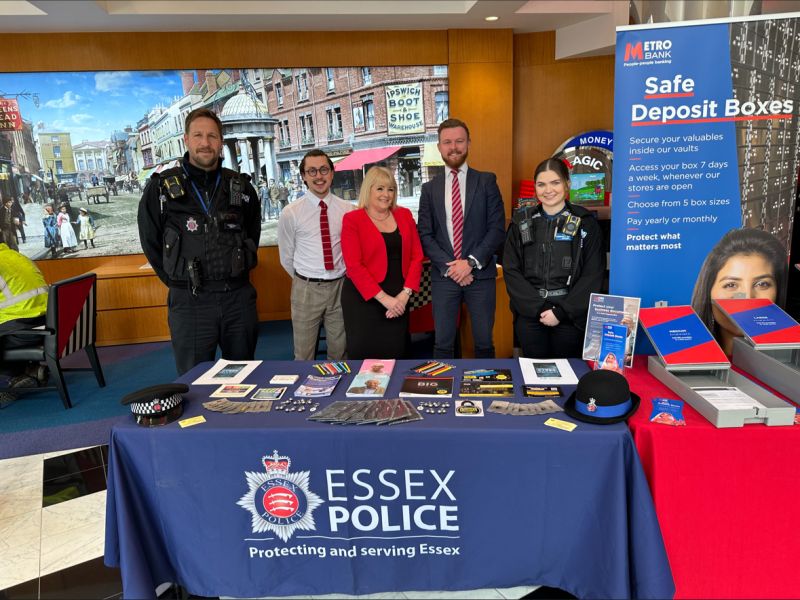 Chelmsford residents experienced 581 reported crimes in February including 12 bike thefts, 37 burglaries, 12 robbery and person thefts, 52 incidents of shoplifting and 29 other thefts.
The Community Policing Team provided customers with fraud prevention advice and handed out personal safety items. The team also promoted awareness about scams asking the public to contact Action Fraud on 0300 123 2040 if they believe they have been a victim of a scam and if they witness or suspect a crime to call 101.
"As a community bank, we are here to support our local residents and businesses and the information provided by the Community Policing Team was both reassuring and invaluable," explained Chelmsford Metro Bank Store Manager Sue O'Brien. "I would like to extend a huge thanks to everyone who made this day possible and we hope to organise another event very shortly."
Metro Bank's Chelmsford store can be found at 38 High Street, Chelmsford, CM1 1BE. The store is currently open Monday – Saturday 8:30am - 6pm. Sunday: 11am - 5pm.