The UK's community bank, Metro Bank, gives every colleague a Day to Amaze – essentially a paid day off to support a local charity or good cause. Seven Metro Bank colleagues from the Asset Finance Team took to the Surrey Hills to raise £1,094 for Shooting Star Children's Hospices.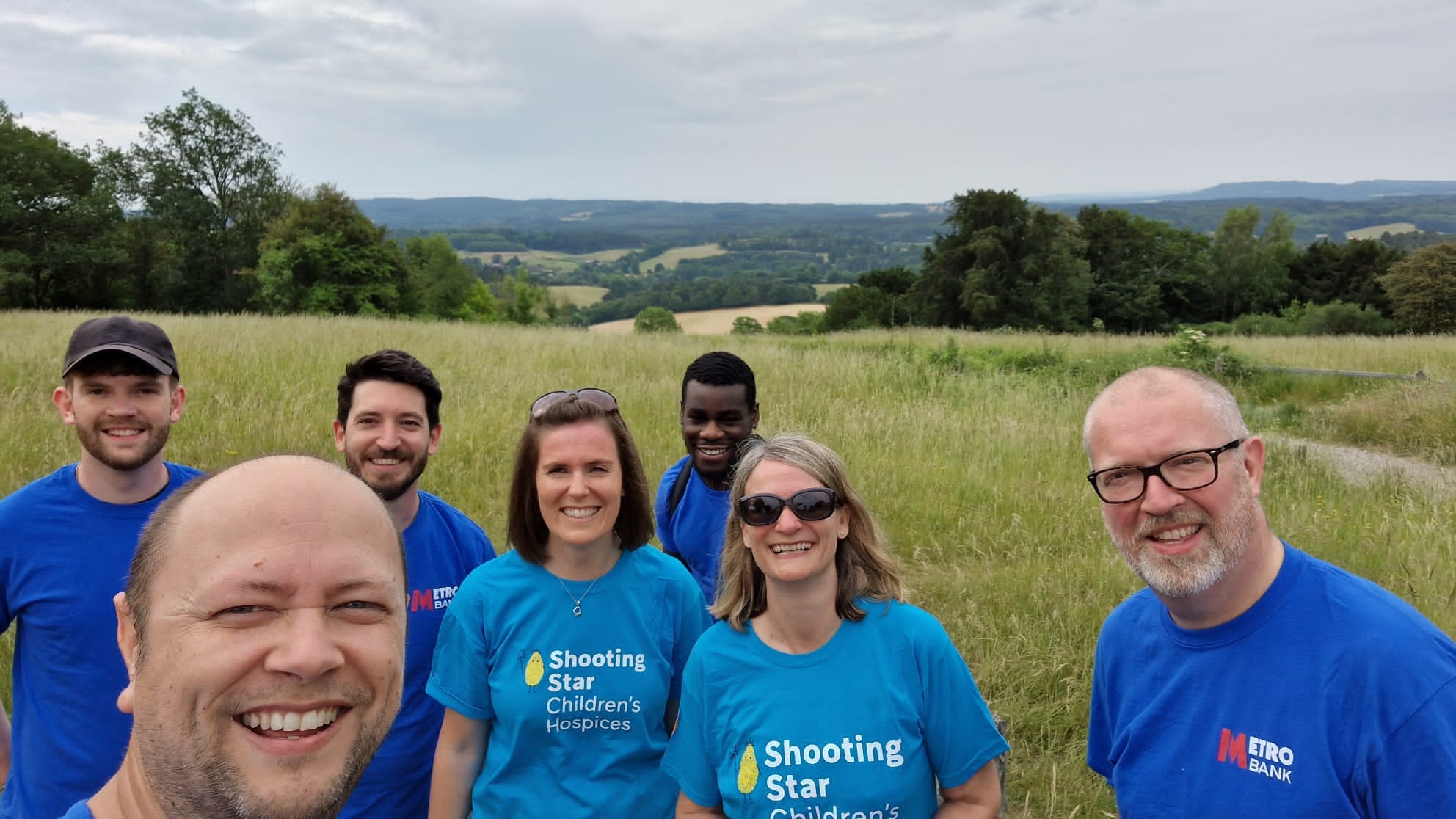 Shooting Stars is a leading children's hospice charity which cares for babies, children and young people with life-limiting conditions, and their families. The charity needs to raise over £10 million a year to run its hospices that support families across Surrey and west London. Just 30% of their funding comes from the government so fundraising support is essential. From diagnosis to end of life and throughout bereavement, the charity supports the families with a range of nursing, practical, emotional and medical care.
The Trek team based out of the Guildford Metro Bank included colleagues Simon Breuning, Kofi Adofo, Michele Baici, Oliver Brown and the day was organised by team leader and Bagshot resident Louise Sturcke.
'Halfway through the trek I knew I would need to offer a sincere apology to my hips, knees and ankles. They didn't get the memo that informed them about my daily step count increasing to over 30k for one day only (a normal day is 5k if I'm being generous),'' explains Metro Bank Business Liaison Manager, Louise Sturcke and event organiser. 'Being given a paid day off by Metro Bank to fundraise for this fantastic charity is a real perk and I want to extend huge thanks to the colleagues who trekked with me and for everyone who supported us to raise these much needed funds."
"What an amazing day! I think we all found the walk pretty challenging, but the weather and the views were incredible," remarked Simon Breuning, Head of Lending Operations, Metro Bank "And then on top of that, to know that we were doing it all for such an amazing cause made the whole experience a real pleasure!"
Metro Bank's Guildford store is located at 35-37 North Street, Guildford, GU1 4TE. The store is open Monday to Saturday: 8.30am to 6pm, Sundays: 11am to 5pm. Guilford Metro Bank is also part of the Safe Space scheme – the store is available to anyone experiencing, or at risk of domestic abuse, providing the opportunity to safely call a helpline, support service or loved one.
PHOTO SHOWS
Metro Bank colleagues:
Back row – Ollie Brown, Miki Baici, Kofi Adofo
Middle – Louise Sturcke, Jane Howell
Front – Paul Marriner, Simon Breuning