Metro Bank Enters Partnership with England and Wales Cricket Board as Inaugural Champion Partner of Women's and Girls' Cricket
Metro Bank to become the first ever champion partner of women's and girls' cricket, across all formats, from Test match to grassroots
A new Women's and Girls' Fund (the Fund) will sit at the heart of the partnership, supporting the transformation of grassroots cricket for women and girls
Metro Bank to be the official England Women's team partner including Title Partner of the Women's Ashes Series
The England and Wales Cricket Board (ECB) and Metro Bank today signal a landmark moment for cricket with the start of a long-term partnership designed to help deliver transformational growth to women's and girls' cricket communities across England and Wales.
At a time of surging demand for women's sport – with the forthcoming Women's Ashes smashing ticket sales records, in line with the success of football's Lionesses and rugby's Red Roses – the pioneering partnership will see Metro Bank's logo on the sleeves of England's Women's shirts, beginning with this month's much-anticipated series against Australia.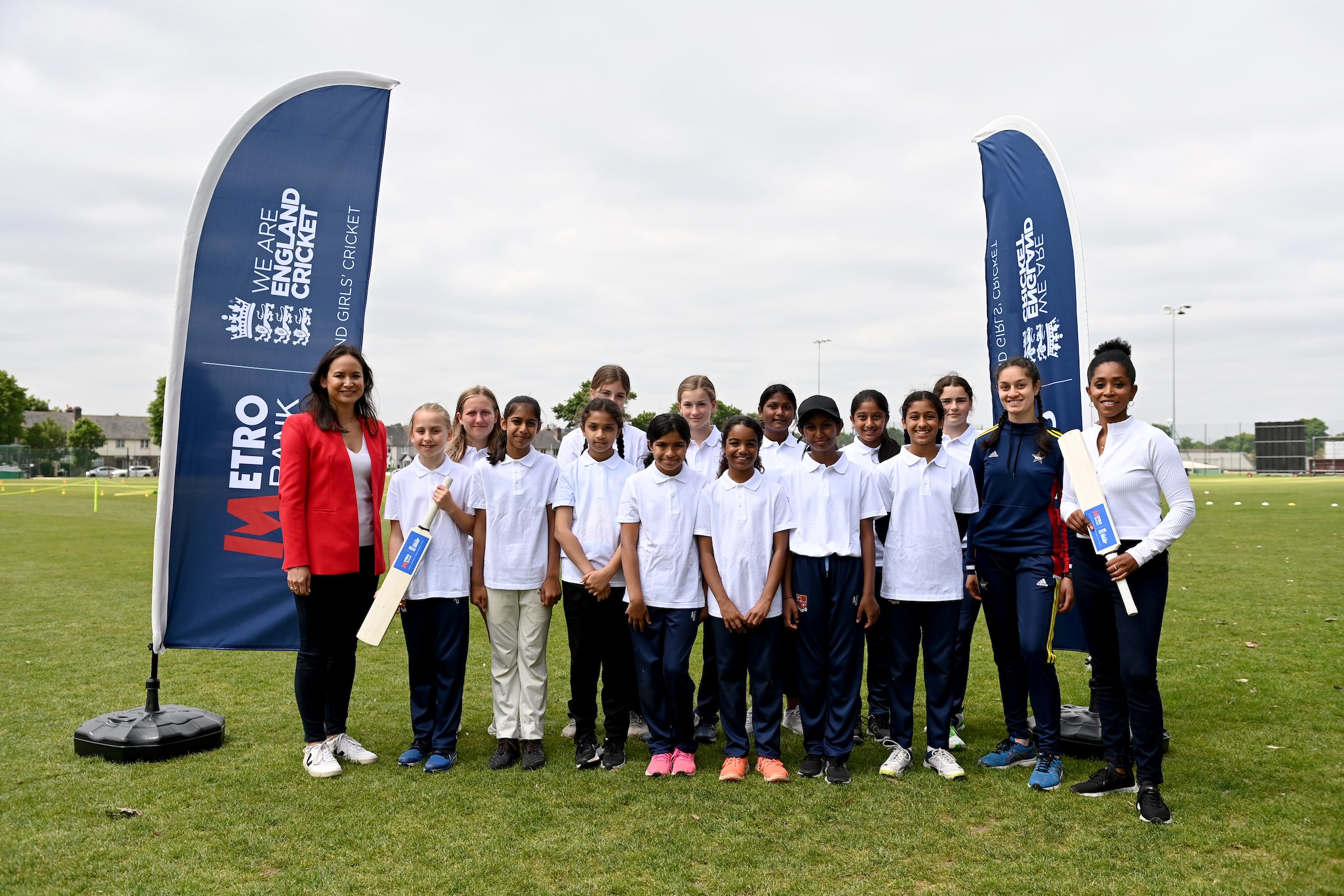 Through the partnership, Metro Bank will have a presence across the international, domestic and recreational game. As the first ever champion partner of women's and girls' cricket, Metro Bank will also turbocharge the already rapid growth of women's and girls' clubs across the country, accelerating change in the game for the benefit of generations to come.
The Fund will support programmes designed to make cricket more inclusive, bring more women and girls into the game and retain those who are already in it. The Fund is made up of equal contributions from the ECB and Metro Bank who will co-develop programmes which will power the future of women's and girls' cricket, accelerating its progress towards becoming a more gender-balanced sport.
"This is a real partnership with purpose built on Metro Bank's commitments to local communities and diversity and inclusion," said Danielle Lee, Director of Brand and Marketing at Metro Bank. "Sport acts as a catalyst, helping to increase confidence and social skills, and together with the ECB we will use the Fund to empower more women and girls to reach their full potential in cricket and beyond. We will do this by changing perceptions and providing women and girls with the means to overcome the obstacles to maximise their participation in this great sport. This partnership will help to deliver a lasting legacy for women's and girls' cricket."
Clare Connor, ECB Deputy Chief Executive Officer and Managing Director England Women, said: "Metro Bank share our passion, determination and energy to break down barriers and build on the huge progress we've made in women's and girls' cricket in recent years. We're thrilled to welcome them on aboard as our first ever champion partner of women's and girls' cricket ahead of the highly anticipated Metro Bank Women's Ashes Series and are excited by the potential of what this partnership can achieve.
"Whilst we have seen a period of huge growth and increased profile across the women's game, we know there is still much more to do to make our sport truly gender balanced. By working together with partners such as Metro Bank who share our ambition for the sport, I am confident we will make our sport more inclusive and inspire many more girls from all backgrounds to pick up a bat and ball."