Metro Bank, the community bank, recently welcomed Sir Mike Penning, Member of Parliament for Hemel Hempstead to its Marlowes store.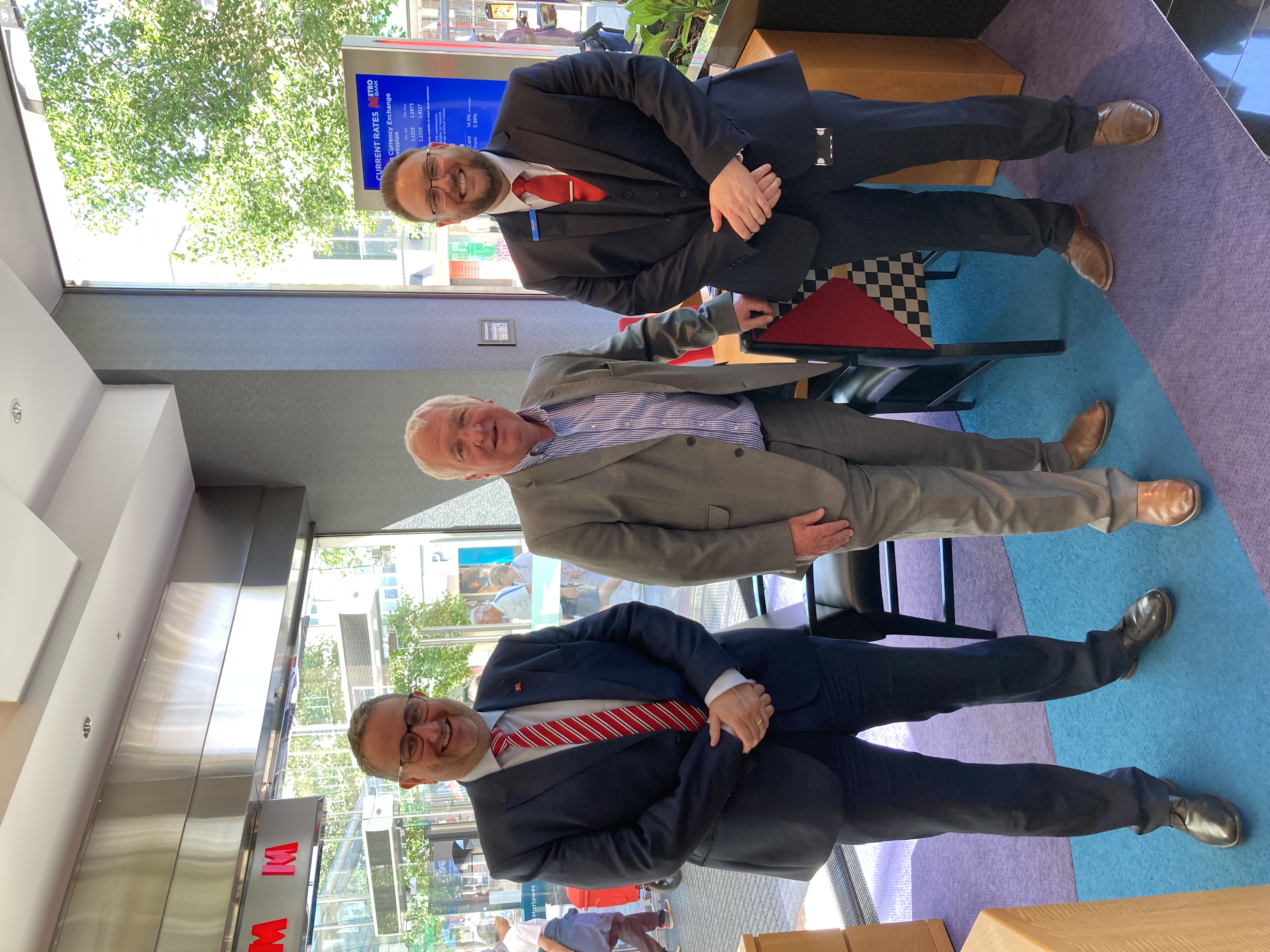 Hosted by Metro Bank's Store Manager, David Byrne and Area Director Guy Jones-Owen, Sir Mike is a regular at the store, so the focus on the visit was to learn more about how local consumers and businesses are coping in the current economic climate.
Discussions ranged from the rising Bank of England interest rate and the impact on mortgages and savings rates to the store's support for the local homelessness charity, DENS, which the store is helping to collect donations for, and the store team are using their 'Day to Amaze' to help local good causes by volunteering to run fundraising events.
"We discussed local issues including policing and tackling crime in the town centre as well as the wider impact of fraud and scams and helping victims of these crimes, plus the need to stop scams at source by catching and punishing the perpetrators," explained Metro Bank Store Manager, David Byrne. "We also talked about our ongoing support for the local business community, based on building trusted relationships and delivering great service via our accessible local business managers, as well as the store acting as a centre for business networking, talks and events. We also support the Dacorum's Den business grant scheme which is chaired by Sir Mike and actively participate in the local Business Improvement District.
Metro Bank supports those serving in the Armed Forces and veterans and Sir Mike is both a veteran and former Minister for the Armed Forces. "We enjoyed discussing a range of related issues with Sir Mike, from housing to financial education," explained Metro Bank Area Director Guy Jones-Owen. "We are a signatory to the Armed Forces Covenant and have achieved the Gold Award, so we explained how we are working on extending our free financial education programme, Money Zone, to the Armed Forces and how we have delivered the programme to local schools and also at big events such as the recent Hertfordshire Agricultural Society Food & Farming Day."
Metro Bank's Hemel Hempstead store is located at 56-58 Marlowes, Hemel Hempstead HP1 1DX. The store is open Monday – Saturday: 8:30am - 6pm. Sunday: 11am - 5pm. Hemel Hempstead Metro Bank is part of the Safe Space scheme – the store is available to anyone experiencing, or at risk of domestic abuse, providing the opportunity to safely call a helpline, support service or loved one.