Southend Metro Bank collected nearly 150 donations in store to support St Vincent's Centre and Metro Bank donated £500 to Southend Association of Voluntary Services as part of its Christmas Community Campaign to spread the warmth this winter. In recognition of the current cost of living challenges Metro Bank donated £35,000 to over 70 community charities, all of which are local to its stores, instead of having a Christmas tree in each store.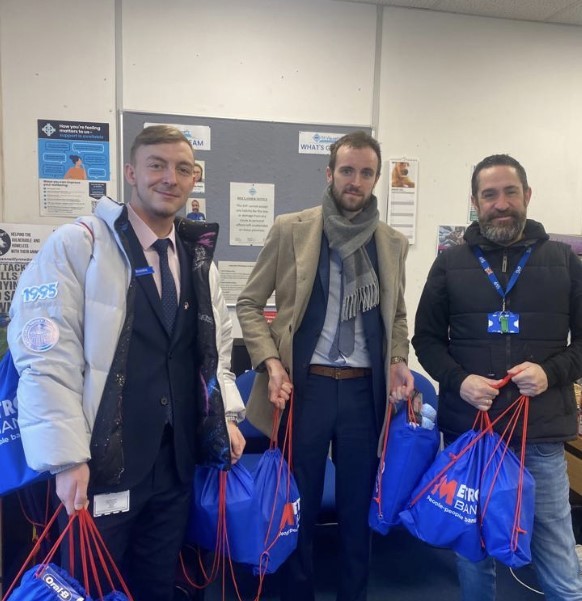 Southend Association of Voluntary Services (SAVS) is an independent charity known as a council for voluntary service – they work behind the scenes to help local charities and community groups achieve their full potential. St Vincent's Centre is one of the charities that SAVS supports. St Vincent's Centre, Southend-on-Sea is a Community Support Project which supports vulnerable people in the local area. The project offers a friendly, non-judgemental and unique "wrap around" service tailored to the needs of the individual including the provision of foodbank services, hot meals, in and out reach support, household items and clothing, counselling, dementia support and a befriending service.
Southend residents and businesses donated food, clothing and household items at the Victoria Centre store.
"We would like to say a huge thanks to all the customers who donated in store to help this fantastic charity,'' explains Southend Metro Bank Store Manager James Farmer. "As a community bank, we are really proud that we could help St Vincent's Centre continue the amazing work that they do and make a difference this Christmas in some small way.''
Metro Bank's Southend store can be found at G19-G21, The Victoria Centre, SS1 2NG. The store's opening hours are Monday to Saturday: 8.30am to 6pm; Sunday: 11am to 5pm.