Borehamwood Metro Bank Attends Local School's Career Fair
The UK's community bank, Metro Bank recently joined many other businesses at the St Joan of Arc Catholic School's career fair to talk to high school students and their parents about next steps and a potential career in banking.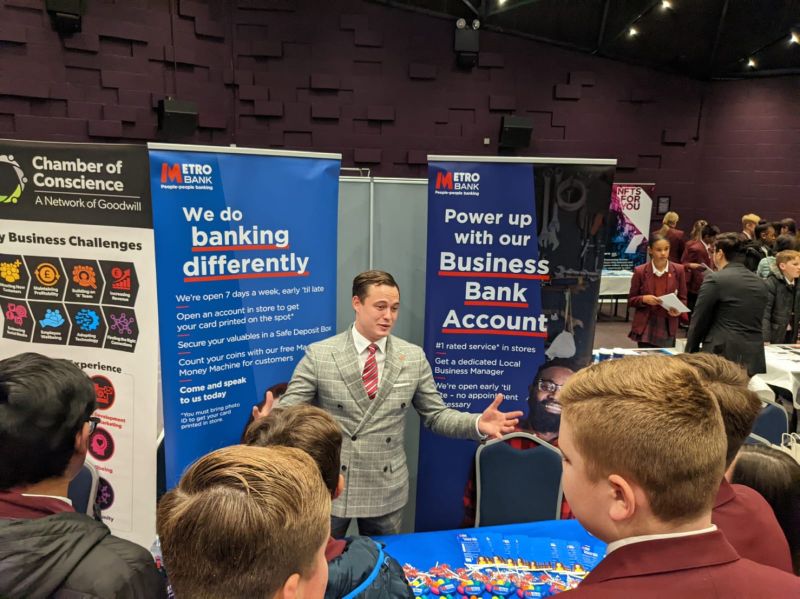 "We were delighted to join St Joan of Arc School's career fair to give the generation of tomorrow a little insight into the career options they have," says Benjamin Vis, Metro Bank's Borehamwood Local Business Manager. "It was lovely to see how engaged the students were as we talked about the exciting career opportunities available within Metro Bank, including a breakdown of what a day at work looks like and how it truly feels to work in a recently accredited Most Loved Workplace."
Metro Bank believes its hire for attitude and train for skills ethos, combined with its strong company culture, make it an attractive prospect for school leavers.
"People often believe there is a need for a raft of qualifications and lots of barriers to enter banking, but at Metro Bank this is not the case as we hire for attitude and train for skill," explains Grace Pressland, Recruitment Manager, Metro Bank. "We are constantly feted for our customer service and that correlates directly with the type of colleagues we hire. We want people who love to work in teams and we look for zest, enthusiasm and empathy more than GCSEs, A Levels, degrees, or even past banking or financial services experience."
Once people join the company, career progression can be rapid as Metro Bank fills more than 40% of its vacancies from internal recruitment.
Financial education is a key skill Metro Bank wants to share with all children. During term time Metro Bank works with school teachers across England and Wales to deliver Money Zone – a series of free financial education lessons that Metro Bank offers to school children. Money Zone comprises of four sessions – budgeting, saving, banking and the last session which takes place in store giving the children a behind the scenes look at the Bank including a visit to the vault. Metro Bank has delivered its Money Zone programme to over 250,000 children.
Any schools or groups interested in Money Zone can contact their local Metro Bank store for more information.
Metro Bank's Borehamwood store is located at Borehamwood Shopping Park, 3E, Theobald St., Borehamwood WD6 4PR. The store is open Monday – Saturday: 8.30am - 6pm and Sunday: 11am - 5pm.